We offer you modular
DC-Charging Stations
Made in Germany -
Happy Charging!
POWERFUL CHARGING
Charge quickly and easily
CHARGE-V offers you an efficient charging system in conformity with calibration regulations,
with up to sixt charging points. Payment is done quickly and easily with
EC,
credit card
, RFID or
via app.
SIMPLE
A simple basic principle
A Power Unit

supplies electricity to up to three terminals with

160 kW per charging

.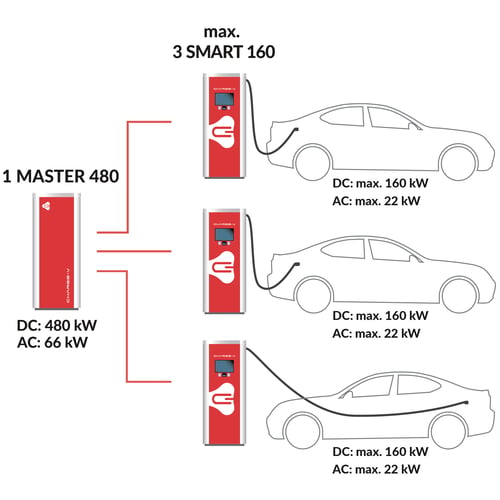 Front Terminal

SMART
160
Integrated cord rewind stows away the 6,5 m long cables easily.
---
160 kW DC / 22 kW AC

Ideal for fleets, retail, gastronomy, municipal utilities

Billing complies with calibration regulations

15,6'' touchscreen, proper GUI

Flexible applications thanks to small construction

Approx. weight: 200 kg

Width: 0,95 m - Height: 1,99 m - Depth: 0,35 m
COMING SOON
Front Terminal

SATELLITE 160
Unique design meets sturdy construction.
---
160 kW DC / 22 kW AC

Ideal for service stations, cities, filling stations, parking areas

Billing complies with calibration regulations

7'' touchscreen, proper GUI

Mounting base with integrated impact protection

Approx. weight 150 kg

Width: 1,50 m - Height: 2,25 m - Depth: 0,30 m
Power Unit

MASTER 480
Simultaneous power supply for three charging poles with 160 kW each.
---
AC / DC converter

Max. 480 kW DC / max. 66 kW AC

Modular equipment with 40 kW steps

Compact design

Scalable satellite configuration

Optimal load management

Width: 0,95 m - Height: 1,99 m - Depth: 0,95
COMING SOON
All in One

COMPACT 480
Simultaneous charging of two e-vehicles with 240 kW each.
(2 x 240 kW or 1 x 480 kW)
---
480 kW DC / 2 x 240 kW DC

Stand-alone charging solution

Pre-installed ready for connection

Fully integrated power electronics

User-friendly 15.6'' touch screen

Demand-oriented power adjustment

Width: 0.95 m - Height: 1.99 m - Depth: 0.95 m
POWERFUL FEATURES
The special features of our charging stations

Charging capacity of up to
160 kW (DC) and 22 kW (AC)

Easy-to-use 7" or 15,6" touch screen with graphic visualization

Easy payment






Scalable upgrade with modular power units in steps of 40 kW

AC and DC bill in conformity with calibration regulations

Easy stowing thanks to cable rewind

Option for white labelling

Three charging stations can be supplied with power

Weather-resistant,
protected against vandalism

Powder-coated steel and aluminium housing

Preinstalled, ready for connection

CE declaration of conformity
DIN 61851-1, DIN 61851-21,
DIN 61851-23
Why CHARGE-V?
Your satisfaction is our highest priority.
That is why we see it as our task to support you as experts in the field of rapid charging systems.
From planning, manufacturing and delivery to the assembly, you will have one reliable contact person.
PRODUCT QUALITY
Made in Germany
All our charging systems underly the strictest quality standards


Customer-centered development


Components exclusively come from qualified and well-known suppliers


Leading test certificates from Germany confirm the high safety standard of our charging systems
PRODUCT
Simplicity
Easy installation, maintenance and commissioning


High reliability and short delivery periods


Delivery throughout Europe in high numbers


Spare parts are either supplied by us or by our partners
CUSTOMER SERVICE
Professionalism
Digital service platform with training courses, documents and support


Webinars on the most recent developments and trends


Fast, efficient customer service


Help with funding applications
SUSTAINABILITY
Changing the world
Our charging systems contribute to a world-wide transformation of traffic


Our goal:
lowering CO2  actively, providing climate-neutral mobility and energy


We support the sustainable development goals of the UN

CHARGE-V supports UN Sustainable Development Goals.

CHARGE-V is part of the VISPIRON Group, which has set itself the goal of creating, expanding and flexibilising climate-neutral mobility and energy. We also try to promote the vision of creating a future worth living in our company.